Posts Tagged 'thistle'

Friday, April 15th, 2011
I've had a half-finished tiny painting lurking in my studio for a while now, waiting for me to decide just what to paint on it. I wanted to have a fairy with a firefly tail coming to visit a lovely globe thistle, a more fantasy-themed echo of my other thistle tiny painting, but my first two sketches for it weren't really right. I'm not sure this one quite has what I'm looking for, either, but it's a step in the right direction.
Tags: fairy, nfs, sketch, thistle
Posted in Daily Art, People, Figures and Faces, Works In Progress | No Comments »
Friday, October 1st, 2010
Just a couple of sketches I did for a tiny painting I'm working on. I'm still not totally happy with either one, so who knows what the final painting will be like!
Tags: fairy, nfs, pencil, sketch, thistle
Posted in Angels, Cthulhu, and Other Myths, Daily Art, Flowers, Trees and Landscapes, People, Figures and Faces, Whimsical and Strange | 1 Comment »
Friday, November 13th, 2009
This tiny oil painting captures a moment in the blue-violet dusk. This image is the one that drove me to buy these canvases and their wee easels, the globe thistle seeming nearly white against the twilight sky, lit by the fireflies' greenish glow.
I've had a really hard time capturing the subtle color with my camera, which is determined to make it bluer than it really is. Hopefully whoever buys it will find the true colors a pleasant surprise!
The edges of this little canvas are finished, the image wrapping around to the sides to add a little dimensions to this tiny bit of dusk.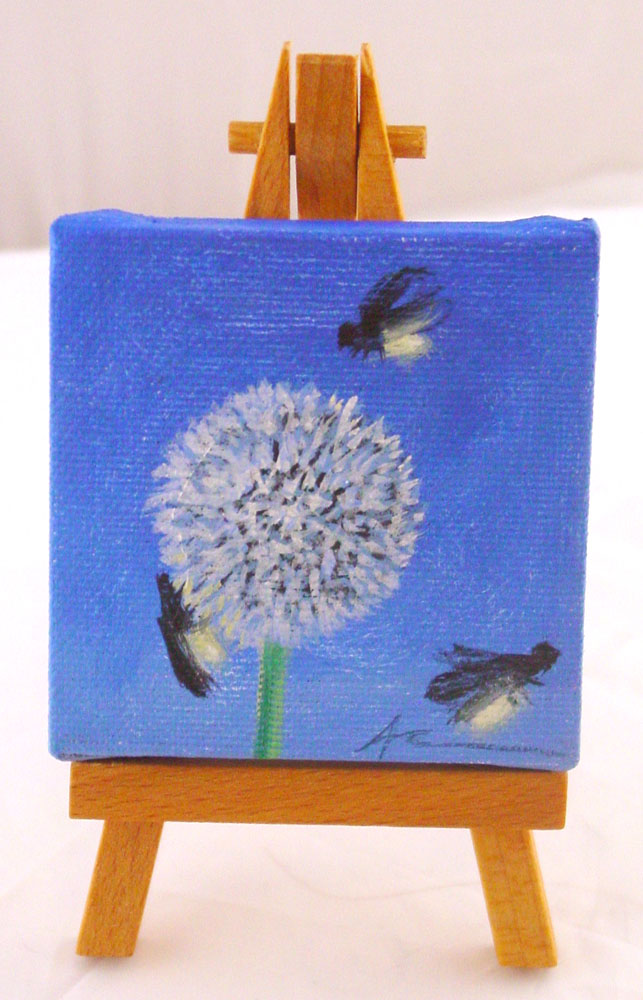 Thistle, 2.75″x2.75″, oil on canvas, 5″ tall easel, sold.

Tags: fireflies, nfs, sold, thistle
Posted in Daily Art, Flowers, Trees and Landscapes | 1 Comment »