Chocolate Spice Drops
Tuesday, November 9th, 2010
This recipe is used with permission from my friend Ellen Fremedon.
I've m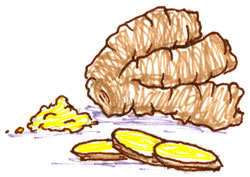 ade these several times and they're always awesome — you can put in whatever assortment of spices you want, but I definitely recommend the fresh ginger and pepper both to get a good bite from the spice.
The texture of these cookies is very soft and cakelike, so they don't keep for very long, but that's not usually a problem. They store best in shallow tupperware, with parchment paper between layers to keep them from sticking.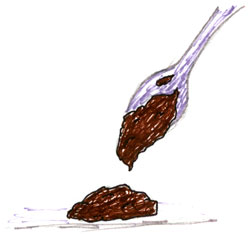 6 Tbsp strong spiced tea (I used Republic of Tea Cardamom Cinnamon, but any black or herbal spice tea would probably work.)
1 cup white sugar
1 stick butter
1 large egg
1 tsp vanilla
1 Tbsp minced ginger (grated, not powdered, but pre-grated from the produce section is fine)
1 3/4 cup all-purpose flour
1/4 cup good-quality cocoa powder
1 tsp baking powder
1/2 tsp each ground cinnamon, ginger, cardamom, nutmeg, and black pepper
Dash of cloves, allspice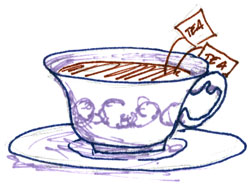 Cream together butter and sugar, then add egg, vanilla, and fresh ginger. Mix together the flour, cocoa powder, baking powder, and spices. I like to use a whisk for this step to break up lumps, especially in the cocoa.
Blend dry ingredients, wet ingredients, and the tea. Drop by spoonfuls onto a greased baking sheet and bake at 350 F for 12-13 minutes. The cookies will puff up in the middle.
Find more like this:
Categories: Daily Art, Series and Books, Whimsical and Strange
Tags: food, recipe, sharpie marker

« Marbled Eye

Weeble Wednesday: Zombie »