Harvest Moon
Saturday, December 18th, 2010
This painting, like several others, was done for the cover of the Starcycles Calendar (in this case for 2004). We wanted something simple with rich colors, though later on we added in an image of Thoth as a shadow on the golden harvest moon.
Harvest Moon, 10″x14″ oil painting on art board.
As the paints have aged, the once deep blue has taken on a really interesting sheen that only shows in certain lights, adding a really nice violet depth to the sky that contrasts well with the matte, earthy golds.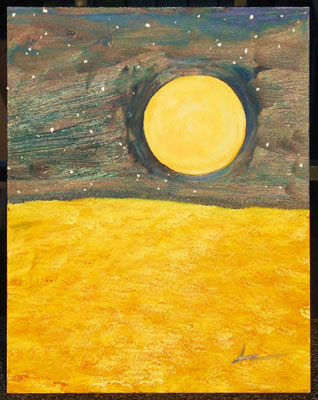 Find more like this:
Categories: Daily Art
Tags: for sale, harvest moon, moon, oil painting, starcycles

« Holiday Cards of Potatoes Past

Grandson of More Coloring Book Doodles »
2 Responses to "Harvest Moon"