Watercolor Commissions
Your Life, My Art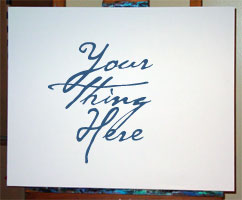 So, you want a watercolor. But the one you wanted was already sold. Or you don't want the exact art you've seen on my site, you want something that's like it but just for you.
I can help you with that.
I'm also pretty good at gift giving. Why does this matter? Well, if you've got someone really special in your life and you want to give them the perfect awesome thing, we can create something unique for them together. And I promise to do the hard parts.
The Offerings:
8″x10″ watercolor on watercolor paper or that nifty Arches cover black. That's just under the size of a sheet of typing paper, and big enough to look nice on a wall. $400.
5″x7″, 4″x8″, or 6″x6″ watercolor on paper. Smaller, but still pretty awesome. $300.
4″x6″ or 5″x5″ watercolor on paper, the size of a postcard or a little bigger than a coaster. $250.
Want a different size? Contact me and we'll talk. All of these prices include shipping, and payment would be broken up into a deposit and final payment, possibly with installments along the way for bigger, more time-consuming pieces — or the sake of your budget.
What are watercolor commissions, anyway?
Commissioned watercolor paintings are the result of a client (you) paying an artist (me) to paint something specific for them. It's a collaborative process involving some back-and-forth, where we work together to create something that you (or the recipient, if it's a gift) will really love.
You'll get a completed, unframed piece of high-quality watercolor art that's all ready to go, in my painting style, with the subject of your choosing. This includes abstracts as well, if you just feel like you need something that feels like green to you. You won't get any rights to reproduce the work, especially not for commercial purposes.
If you're looking for a custom illustration you can make copies of, either for your business or just because you really want one, you can contact me and I'll walk you through the process of getting a quote and, eventually, your own original art.
So how does it work?
Well, to start with, you contact me. Then we talk about what it is you want, whether by phone or email or even, if you're in the Bay Area, meeting over tea.
A lot of the time, you'll have a piece or series of mine that you love but that just isn't right, for whatever reason — it's already sold, it's blue, it's the wrong size, you'd rather have geese than crows, etc. Whatever your starting point, we'll go from there to help realize the vision you have of the perfect Amy-painted art for your wall, desk, or lucky giftee.
Is there anything you don't do?
The main thing I don't do is fine art portraiture — of you, your girlfriend, your dog, your D&D character, or even Angelina Jolie. Portrait artists practice a very specialized craft, and I'm not ashamed to admit it's not really my area of expertise. Let me tell you, though, if you google "pet portraits" you are definitely gonna find someone who will help you out there — it just won't be me.
There are other subjects that might not work for one reason or another, but that's the big one.
If you want fan art comics in my usual style, however, you can read this to find out how to get that.
So what happens after we get an idea?
Generally, payment is in at least 2 parts, half at the start and half at the end before shipping. If you need to break that up more, we'll talk. Once I've got your check in my hot little hands (or hot little Paypal account), I'll start doing sketches, pulling research photos off the internet, and that sort of thing. There will be a flurry of emails, and maybe even a meeting if you're local.
Good art does take time. Actually, expect at least 4-6 weeks, plus delivery time (this means if you live next door, you can have it as soon as I've documented it, but if you live in the Australian outback, add a couple of weeks onto that for the postal albatrosses).
You'll get emails with photos as things develop, and we'll discuss the progress and if anything needs to be changed — if it can be changed. I'll also make it clear at each step when the next step is going to be potentially irreversible without starting over.
I want you to feel, at the end, that you not only got your money's worth but that you'll be proud to display your new work of art.
And then, eventually, you'll have your very own original watercolor painting. Cool, huh?
All right, I'm curious. What do I do now?
Now you get in touch with me! You can use one of the methods on the contact page, or just click here to email me.
P.S. Like my work, but not quite ready to take the big plunge? That's okay! Check out my the watercolors I've done so far, including several commissions.