Nugget
Wednesday, November 11th, 2009
I got to paint squid! His name is Nugget.
My friend Gretchen commissioned me to paint her a giant squid to go over her mantle. We agreed on a size and general design, and after many months of slowness on my part acquiring the iridescent paint (He is about 95% iridescent or pearlescent. Shiny!), working and reworking his background, and finally getting him painted in and then made to not look bad, I have… SQUID! I will say that none of the photos really capture the color well, and nothing can really make you see the shiny that it is in person. It's subtle, but awesome.
24″x36″, oil on canvas, not for sale (commission)
For the curious, here's a bit of his process. Note how the bottom edge of the easel matches the bottom of the painting — you can see I'm a very careful, precise sort of artist. 😉

The original Background: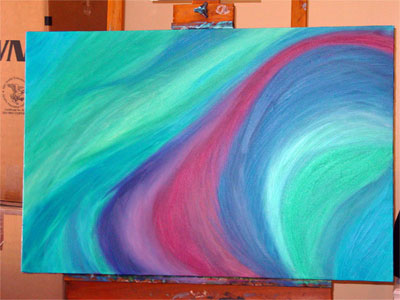 Change #1, plus original smaller squid: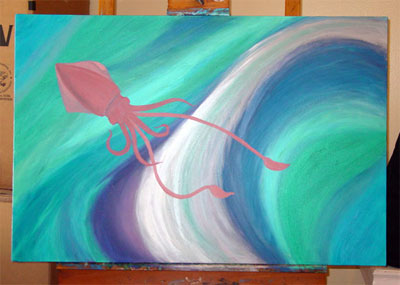 More background changes, and o no Mr. Squid!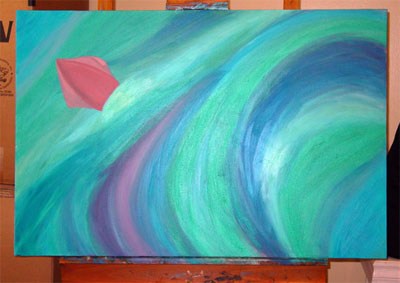 The new squid. Sort of.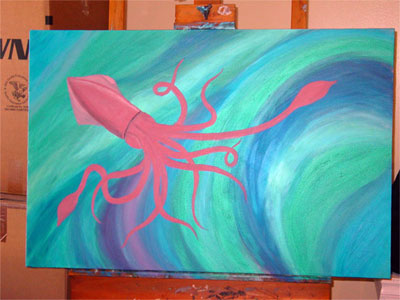 This is what Jeff calls "past the ass point", where I am no longer ashamed to have painted it: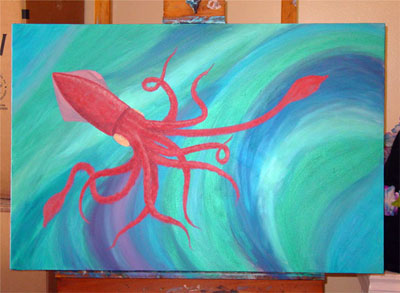 Suckers! And pupils! And then he stared at me for a week…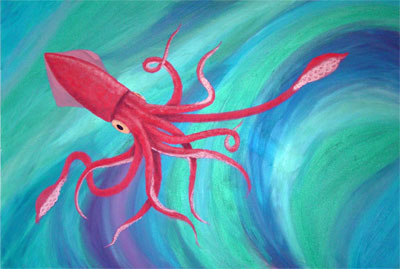 Then we darkened up his fins to match, and gave him lighting.

The bubbles you see in the final here were the very last thing added:
"I commissioned a painting from Amy, and the process from start to finish was a wonderful experience. She was very responsive when we discussed the initial concept, asking questions and discussing details I hadn't even thought to mention.

As she progressed with the work, I always received regular updates and she was open to any suggested changes and revisions I had (including a major revision that required quite a lot of extra work!). The final painting is absolutely stunning and has garnered many compliments from all my friends who see it."

Gretchen
Find more like this:
Categories: Completed Commissions, Daily Art, Sea Creatures and Other Animals, Tentacles
Tags: all rights reserved, commission, nfs, squid, tentacles

« Into

Roots of the Earth »