Random Recipe: Pancakes
Monday, October 11th, 2010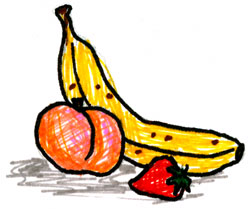 I made delicious banana pancakes the other night, and I thought perhaps you'd like the recipe. It's taken from the King Arthur Flour website, and then altered to make it extra delicious.
1.25 cups (5.25 ounces) self-rising flour
1 tablespoon sugar
1-2 dashes of cinnamon (depending on the fruit)
1 cup (8 ounces) milk
1 large egg
2 tablespoons (1 ounce) melted butter
1 banana, 1 peach, or a bunch of berries (about a cup)
In a large mixing bowl, whisk together the flour, sugar, and cinnamon. I have a totally awesome heavy ceramic mixing bowl that I use that has Piglet on it, the smallest of a set of 3.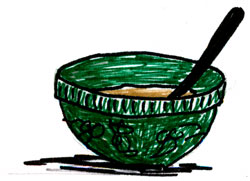 Measure the milk in a 2-cup measuring cup, then add the egg and whisk it in. While whisking, pour the melted butter into the measuring cup, and whisk them together until blended.
Add the milk mixture to the dry ingredients and stir until blended.
Cut up the fruit. Bananas can be sliced, peaches should also be sliced into flat chunks, blueberries can just be tossed in as is, but strawberries also need slicing. Flat is good, so it doesn't make weird lumps.
Lightly grease a skillet and heat it over medium heat until a drop of water dances or you get too impatient to keep waiting. I use a one-third-cup measuring cup to pour batter onto the skillet, making one pancake at a time. Place the fruit, if using — I usually get about 4-5 banana slices per pancake, or half a dozen berries, or 3 blueberries and 3 chunks of peach (heavenly).
Cook until the bubbles on the surface begin to break and the edges are starting to look dry. Turn the pancakes over and cook until lightly browned, about one more minute. This will also deliciously caramelize the fruit.
Remove from the pan and eat while you make the next one. The last pancake is always either really big or really small. I usually make an extra big one to eat with a big grin at the end.
I usually get about half a dozen big, delicious pancakes, eat half, and save half for the next morning. And yes, I eat them with syrup so they're extra super sweet.

Find more like this:
Categories: Daily Art, Things I'm a Fan Of, Whimsical and Strange
Tags: food, pancakes, recipe, sharpie marker, yum

« Better Than Snail Mail

Chibi Catherine Caine »