Honeycake
Tuesday, November 2nd, 2010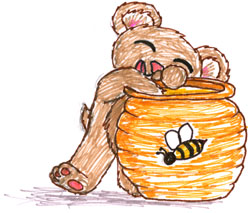 This recipe started out life in the Winnie the Pooh Cookery Book and then was extensively altered from its original form as a birthday cake.
Basically, every single time I read a fantasy novel, someone is having sticky, delicious honeycakes, and I really wanted to get in on that. But I couldn't find a recipe that sounded right, so I started with this one and altered it and altered it and messed with it until I got the dense, spiced, super sweet honeyed cake that I'd always imagined.
When this cake is baked up it's heavy and a bit sticky, and goes wonderfully with a good cup of tea. Experiment to find the just-right baking time for you; my original recipe said 20-25 minutes, but I ended up going about 40 with the white whole wheat flour and that wasn't quite enough. (Note: I have since had my oven fixed and get shorter baking times these days.)
1 3/4 cups white whole wheat flour (I've made this with alternative flours with good results, too)
2 tsp baking powder
1 tsp salt
1 tsp cinnamon
1/2 tsp ginger
1/2 tsp cardamon
1/2 cup milk
2 eggs
1/2 cup butter, softened
1/2 tsp vanilla extract
1 cup honey (spray measuring cup with cooking oil before adding honey for easier pouring)
powdered sugar and/or nutmeg, for decoration
Preheat oven to 375° F. Sift dry ingredients together. While mixing, slowly add milk, eggs, softened butter, vanilla & honey. I mixed up the milk, eggs, and vanilla, then alternated milk mixture with honey, adding in the butter somewhere in the middle. When a creamy batter has formed (mmm), pour into 1 greased 9-inch round cake pan. Bake for 20-30 minutes (watching carefully if your oven is at all like mine) or until brown around the edges, and a cake tester comes out with just crumbs and no batter goo.
Sprinkle with powdered sugar and/or nutmeg and allow to cool for 10 minutes before serving. Use stencils to create pretty patterns if you're a big dork or Martha Stewart.
Serves 12 (or 6 if you're like me).

Find more like this:
Categories: Daily Art, Series and Books, Whimsical and Strange
Tags: bear, food, honey, recipe, sharpie marker

« Whiteboard Doodles Redux

Weeble Wednesday: Obligatory Cultist »
4 Responses to "Honeycake"