Seascape
Saturday, March 12th, 2011
This painting has an interesting history. I first painted it many years ago at the urging of an internet friend, and had originally intended to put a mermaid on the rough stones. I wanted to show the waves splashing up against the rocks and give a real impression of spray catching the moonlight, cool and refreshing with just a hint of mystery. Once it dried, I found I liked it just the way it was, and even the friend agreed that it was better like this — though I did do some photoshopping to add in her mermaid for a desktop background.
Cue the passage of many years hanging on my walls in the sun, and we have some distressing fading. I know which color is to blame now, but back in the day I loved the shade so much I didn't worry enough about lightfastness. Oops!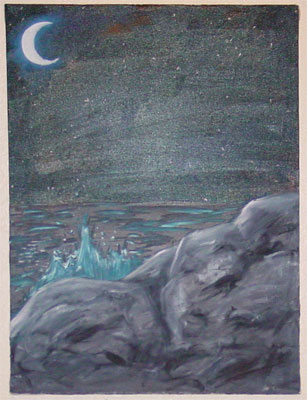 I finally took the time and effort to use a more lightfast color to repair the sea and sky. You can see below a shot where the upper left has been fixed, and the lower right is waiting for its new infusion of color.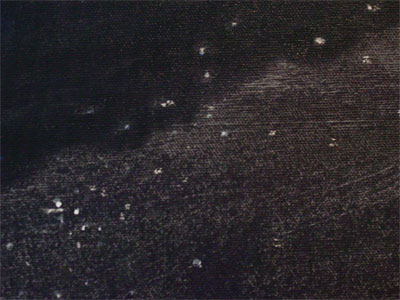 The shot above was taken before it had a chance to dry, so there's a little glare, but the rich midnight blue sky has been renewed, and it's ready to be re-hung.
Seascape, 18″x24″, oil on canvas.
Find more like this:
Categories: Flowers, Trees and Landscapes
Tags: blue, for sale, moon, oil painting, sea

« WIP: Tunnel in the Light

Los Muertos 1 »