Words Wednesday: Interview with Tara Swiger
Wednesday, August 7th, 2013
Tara Swiger is an author, maker, and Starship Captain. She leads explorations into your mission, your marketing, and your enthusiasm…for teeny tiny art-y businesses (like mine!). Currently she's putting together a very cool course called Explore You to help you boldly go.
Tara's gotten two very different illustration projects from me, and she's agreed to tell you how it went and what she's doing with her art.
Q: Why did you decide to get commissioned art?
A:  I think my first piece of commissioned art was the Starship*…and I got it because I wanted something to symbolize the space I was creating. A custom illustration made it seem so much more real (and professional!)
The second piece was a map for my Map Making Guide. I knew I wanted something really nice but don't have the skills to create one myself! I wanted to create a better product, so I needed to bring in someone with better skills!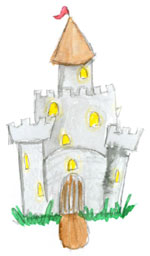 Q: How do you incorporate these illustrations into your business?
A: I use the Starship in the header of the actual Starship (a community site/forum), in my emails, and in a few ads!
The map illustration is part of the actual product of the map-making guide…so my customers use them to create maps of their goals!
Q: What did you hope an illustration would add to your projects?
A: My business is metaphor-friendly, but when those metaphors represent actual things (the community, the Guide) I need something other than words — I need the pictures to illustrate what I'm talking about! I felt that custom images would make it more professional and "put together" than anything I could make.
Q: How did the process work from your end?
A: It was so easy! I gave Amy a few ideas and she got it right away! I was so surprised, because I was super-nervous, but Amy made it easy!
Q: Have you had any unexpected awesome from your art?
A: Amy sent the original sketch of the Starship and it hangs in my hallway with all my favorite pictures! I love what it stands for (this amazing community of support I've created) and that I'm reminded of it every day!
Thanks for taking the time to share, Tara!
If you're interested in commissioning an illustration for your own business, you can check out the details here.
Find more like this:
Categories: Completed Commissions, Daily Art, Words Words Words
Tags: all rights reserved, commission, tara swiger, words

« Old Friends Who've Just Met

Giant Rats 2: Murder? Good. »