Starship Craftybiz 01A
Monday, June 6th, 2011
I couldn't help but be excited when Tara Swiger, one of my favorite smart people on the internet, asked me to help draw up a starship to help represent her awesome new thing. We talked a little bit about what she was going for, and since she wanted to use it for a bunch of smallish stuff on the internet (like the button below), we decided to go for a combination of coloring book and technical drawing — not too much detail, but with a definite "drawing board" feeling that works with her program.
I got an Early Boarding Pass to the Craftybiz Starship Adventure because I'd taken a lot of her classes and found them really helpful to me, as I've begun to build my own business (and especially my Etsy shop). She concentrates on things like figuring out your pricing, where and what to sell, and who to sell it to (hint: it's people who want your unique thing and have money for it), and leaves the technical business details for others. And yes, all these snazzy links are affiliate links, which means I get a percentage, but I'd give her a glowing review anyway — Tara's just that cool.
Also, she was an amazing client to work with, clear on what she wanted and good at conveying it, and enthusiastic over the results. A win for everyone!
"Working with Amy was so much easier than I could have hoped for. I was nervous, because this she's the first illustrator I've ever hired. But the process was simple, her illustration was spot on what I had requested, and she made me feel comfortable through the entire thing. Oh, and it was speedy! I had a short window and Amy didn't leave me waiting.

"Thanks Amy, for making this adventure full of ease and downright fun, I'll definitely be back for more!"

-Tara Swiger
Here's the most excellent button she made out of her starship (see how well it shrunk?), and yes, yet another affiliate link: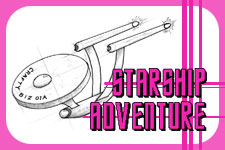 Find more like this:
Categories: Completed Commissions, Daily Art
Tags: all rights reserved, commission, nfs, pen and ink, pencil, starship, tara swiger

« Whiteboard Gremlin

Badlands »
6 Responses to "Starship Craftybiz 01A"