Posts Tagged 'bread'
Sunday, September 19th, 2010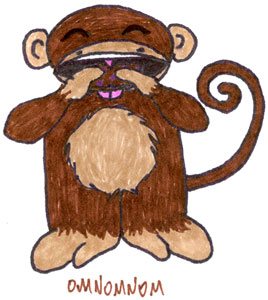 Today I just thought, what the heck, I will share my banana bread recipe! It's all in American volumetric measurements and stuff, I'm afraid, but I'm sure you can figure it out. This is a slightly altered version of the one in the Better Homes & Gardens Cook Book.
Don't mind the rambling, I'm sleepy. Plus, I overexplain. But there is a monkey.
Banana Bread the Amy Way
Preheat oven to 350°F. Spray cooking oil spray (or just use butter or whatever) inside a bread loaf pan — mine's glass, I have no idea how this affects the final product.
Dry Stuff:
1.5 cups white whole wheat flour (I use King Arthur 'cos that's what Safeway carries; normal flour works okay but has a different final texture, and in my experience needs more baking time.)
1.5 tsps baking powder
0.25 tsp baking soda
0.125 tsp salt (one eighth for the math lazy)
a rounded quarter teaspoon each of cinnamon, powdered ginger, and cardamon
a few shakes of nutmeg
a tiny little pinch of ground cloves
Mix all this in a bowl and set aside, making a well in the middle. I like to whisk it together to fluff things up a little, but I'm weird and watch too much Good Eats.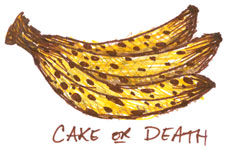 Wet Stuff:
3 nice big ripe bananas only a day at most from overripe. I call this the "cake or death" stage. Mash 'em good.
1 egg
0.25 cup cooking oil
0.75 cup sugar
Mash bananas, then add sugar, egg, and oil, and mix it all up with the mashing fork. Get it nice and gooey and well-mixed, though it's expected that there will be unmashed chunks of banana.
Pour the wet stuff on the dry stuff. Stir until the dry stuff is all mixed in, but only just, to avoid overmixing. Make sure you get the secret stash of dry stuff hiding at the very bottom of the bowl. You know the one I mean.
Extra Stuff:
0.5 cup raisins
0.5 cup chopped walnuts
Fold in either or both of these — I usually just use raisins, but I'm a weirdo. Pour into loaf pan. Bake for 55-70 minutes or until toothpick in center comes out clean. I usually turn once halfway through, and if it seems like the top is getting way too brown, cover it up with tin foil near the end of the baking. The bake time really depends on the day, size of bananas, weather, and baking gods' whims, so do keep an eye, though if you do overbake it, it'll just be a little dry, so whatever.
Cool a while in the pan, and the turn it out onto a cooling rack.
The Hard Part: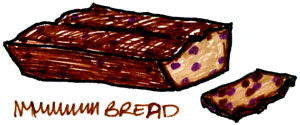 For best flavor, once it's basically cool, wrap it up in tin foil and let it sit overnight. Yes, that means no eating right away, even though your house smells delicious. It'll be so much better the next day, moist and delicious and all flavor-blended and spiced that it's totally worth it, but this is the reason I usually bake at midnight.
The Easy Part:
Enjoy! I like it with tea especially. Omnomnom.
Categories: Daily Art, Whimsical and Strange, Words Words Words
Tags: bread, food, recipe, sharpie marker, yum

---