Posts Tagged 'cookies'
Monday, October 18th, 2010
It's fall and time to make one of my absolute favorite treats! These cookies are practically little cakes with their fluffy texture and delicious icing, and while they're a long process to make, it's absolutely worth it.
I make these a little differently than my mother, so I've marked my own variations with a * in case you're not quite so much of a spice nut as I am.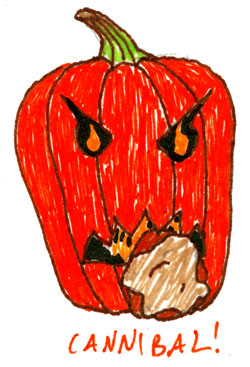 Amy's Mum's Pumpkin Cookies
Cream 1 cup of butter or shortening
Add & beat:
1 cup sugar
1 cup pumpkin (puree or canned)
1 egg
1 teaspoon vanilla
Sift together & add:
2 cups flour
1 teaspoon baking powder
1 teaspoon baking soda
1 teaspoon cinnamon
1/2 teaspoon salt
*1 teaspoon ginger
*1/2 teaspoon nutmeg
*1 teaspoon cardamon
*1/4 teaspoon cloves
Drop on greased cookie sheet (I use parchment paper instead), bake at 375°F for 10-15 minutes. Check frequently for burning. (They will still seem a bit wet inside when they're golden brown on the bottom, but will finish baking into a cake-like consistency as they cool.) Makes ~2 dozen.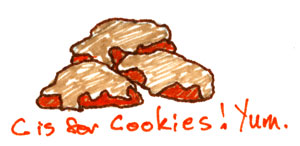 Ginger Brown Sugar Icing
Start with:
1/2 cup brown sugar
1/4 cup milk
3 tablespoons butter
Put in small saucepan over medium heat and bring to a boil, stirring frequently with a wooden spoon. Boil for 2 minutes, then remove from heat and let cool.
Stir in:
3/4 teaspoon vanilla
*1 teaspoon ginger
*1/4 teaspoon cardamon
1 cup powdered sugar
Add more powdered sugar until the consistency resembles a thick glaze, then frost your cookies. Icing will get everywhere, so i suggest you frost them on parchment paper. *grin*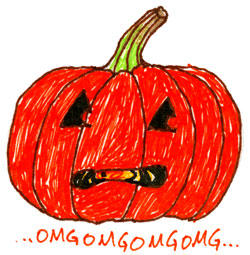 Enjoy!
For those not in the US, when making your own pumpkin puree, use the smaller pumpkin varieties (approximately 5-7 lbs., 2 1/2 – 3 1/2 kg.). Cut the pumpkin in half lengthwise, remove seeds and stringy fibers, and place cut-side down on a greased baking sheet. Bake at 350 degrees F (177 degrees C) for approximately 45 minutes to 1 1/4 hours (depending on size) or until easily pierced with a knife. Scoop out the pulp and puree in a food processor until smooth. Can strain through cheesecloth to extract all the liquid. Cool before using.
Categories: Daily Art, Things I'm a Fan Of, Whimsical and Strange, Words Words Words
Tags: autumn, cookies, food, pumpkin, recipe, sharpie marker
4 Comments »
---