Posts Tagged 'whiteboard'
Saturday, June 4th, 2011
A proper sketch Saturday at long last! I was sleepy and contemplating a cartoon I'm doing for a certain Delightineer, and so I doodled this happy guy on my whiteboard while I was making the next day's to-do list.
Categories: Daily Art, Whimsical and Strange
Tags: nfs, whiteboard

---
Saturday, May 14th, 2011
Bonus tentacles for Saturday!
I got tired of my whiteboard and wanted a clean slate, so I took some proper Windex and washed away all the to-do lists and inspired ideas and good intentions and gave myself a clean slate.
Then came the tentacles.
Categories: Angels, Cthulhu, and Other Myths, Daily Art, Tentacles
Tags: nfs, tentacles, whiteboard

---
Monday, November 1st, 2010

My scanner's on the fritz, so instead of a recipe, you get more expectation-free art from my whiteboard. Lucky you! Photos taken with my iPhone, and therefore of approximately the same quality as the art. 😉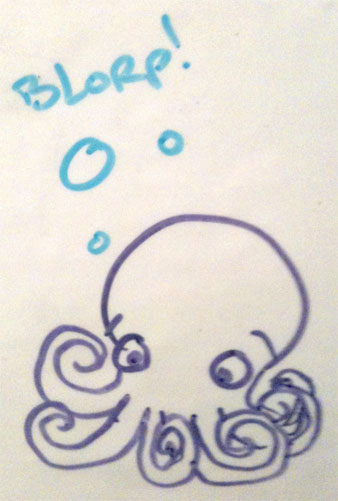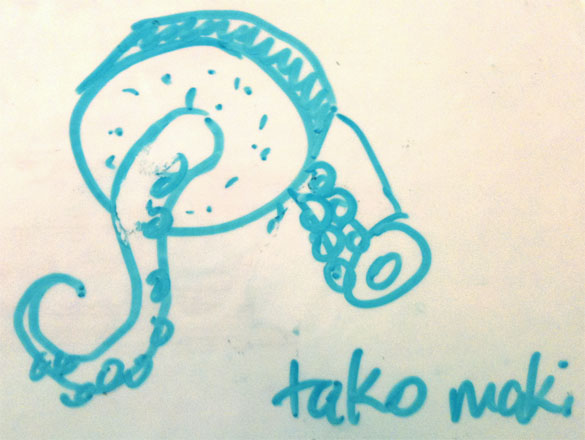 Categories: Daily Art, Sea Creatures and Other Animals, Tentacles, Whimsical and Strange
Tags: nfs, silly, whiteboard
2 Comments »
---