Posts Tagged 'holidays'
Monday, October 26th, 2015
Untrue Love is a short story about murder, magic, and our very own Alex Benedict as a 20-year-old university student.
If you've read and enjoyed my other Consulting Magic books, you'll be delighted to see Alex meeting Lapointe for the first time and trying not to drive her off with his personality before they can solve a murder. There's magic and food and mystery, all wrapped up in one little bite.
If you've not read them, this is a good place to start! You can figure out if you're interested in the world and the people, long before the romance starts in The Courtship of Julian St. Albans.
Alex Benedict is a student of magic in his third year at Hartbridge University with no clear direction for his studies. That is, until he puts himself in the middle of a criminal investigation by literally stepping in it.

This is the story of Alex's first case with Agent Murielle Lapointe, and while it's lacking in romance, it's a delightful look into grumpy young Alex and what he got up to before he was a professional consultant.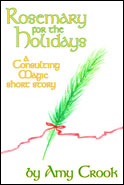 After you've read The Apprenticeship of Julian St. Albans, you can get a little taste of the holidays that follow! This cheerful little story shows Alex and Julian holding an actual holiday part, where friends and family drop by, and they end up filling their home with magic, love, and wonder.
Rosemary for the Holidays is definitely a sequel to the first two books, a quick treat if you've finished both books and still want another taste of our boys. Not to mention a visit with Horace, the flower fairy, the brownies, and the rest!
Julian St. Albans and Alex Benedict celebrate the Solstice with a visit to the wish tree, and a holiday party at their flat. A little holiday gift to the readers of my Consulting Magic series!

This story comes after the events in the second book, The Apprenticeship of Julian St. Albans.
I'll be writing away on the third book during NaNoWriMo, so enjoy these little nibbles while I'm figuring out what's next for Alex, Julian, Horace, and the rest of them!
Categories: Words Words Words
Tags: consulting magic, courtship, holidays, i made this, julian st albans

---
Thursday, October 28th, 2010
When I first started making my own holiday cards, I carved stamps from potatoes, mushrooms, and sponges, and painstakingly hand-stamped dozens of cards — one year I sent nearly 100 cards out! I've since graduated to doing one original and printing the cards from that, though I still sometimes add a bit of hand-painted flair to personal cards.
This was the test print for one year's cards, done using watercolors (including metallics) painted onto those rough handmade stamps. I chose the crouching fairy, though as I recall the cards didn't get the mushroom-stamped object he's crouching in front of. I was experimenting with different methods for making the wings, so there's some extra texture added as well, in metallic gold, red-violet and softly brushed-on blue-green.
Potato Fairy, 9″x12″ watercolor on sketchbook paper, not for sale.
Categories: Angels, Cthulhu, and Other Myths, Daily Art, People, Figures and Faces, Series and Books
Tags: fairy, holidays, nfs, potato stamp, watercolor

---