Whiteboard Doodles
Sunday, October 3rd, 2010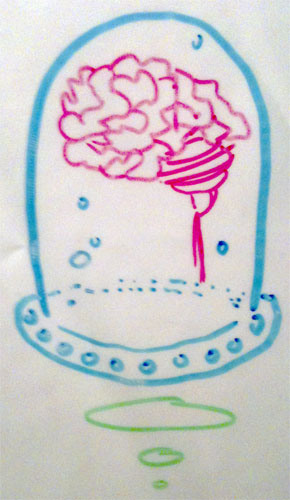 I got a whiteboard! Well, a stick-on whiteboard, which I've put on the back of the linen closet door.
I also acquired a rather odd assortment of marker colors, though I've bought a more normal set to supplement with now. The bright '80s turquoise especially was hard to photograph, so it'll be nice to have some boring blue.
Today I thought I'd share some of the silly doodles I've done on the whiteboard, with the to-do lists, reminder notes and other randomness carefully cropped out.
Sorry about the picture quality, poor lighting + iPhone camera = even more meh than usual.
Find more like this:
Categories: Angels, Cthulhu, and Other Myths, Daily Art, Flowers, Trees and Landscapes, People, Figures and Faces, Tentacles, Whimsical and Strange, Zombies, Skulls, and Other Morbid Things
Tags: cthulhu, doodles, nfs, silliness, skull, vampire, violets

« Fairy Studies

Symbols »
2 Responses to "Whiteboard Doodles"