Posts Tagged 'violets'
Sunday, October 3rd, 2010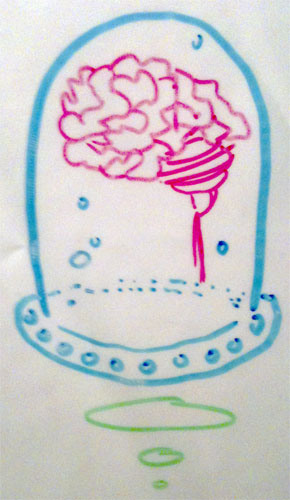 I got a whiteboard! Well, a stick-on whiteboard, which I've put on the back of the linen closet door.
I also acquired a rather odd assortment of marker colors, though I've bought a more normal set to supplement with now. The bright '80s turquoise especially was hard to photograph, so it'll be nice to have some boring blue.
Today I thought I'd share some of the silly doodles I've done on the whiteboard, with the to-do lists, reminder notes and other randomness carefully cropped out.
Sorry about the picture quality, poor lighting + iPhone camera = even more meh than usual.
Categories: Angels, Cthulhu, and Other Myths, Daily Art, Flowers, Trees and Landscapes, People, Figures and Faces, Tentacles, Whimsical and Strange, Zombies, Skulls, and Other Morbid Things
Tags: cthulhu, doodles, nfs, silliness, skull, vampire, violets
2 Comments »
---
Friday, June 4th, 2010
With the tiny paintings, I will often paint a batch of skies, or water, or whatever, and go back in and decide what to do with it later. When I pulled out this warm blue sky to work on it again, I wanted to do something impressionistic for spring that really brought that feeling of warm sleepy days with bees buzzing around the flowers.
The edges of this canvas board are finished, the image wrapping around to the sides to add a some extra dimension. The easel is included, so this painting can be displayed as is on a bookshelf, desk, windowsill, or anywhere you want a little spring sunshine.
Impressionist Flowers, 6″x4″ oil painting on canvas board with 5″ tall wooden easel, sold.
Categories: Daily Art, Flowers, Trees and Landscapes
Tags: bees, canvas board, flowers, nfs, oil painting, pansies, snapdragons, tiny painting, violets
1 Comment »
---