Posts Tagged 'ash ghost'
Monday, February 10th, 2020
Happy Patreoniversary!
I've been on Patreon for 5 years now, amazing! I've managed to grow a lovely little community there of supporters and friends, and I'd like to invite you to join with a special offer.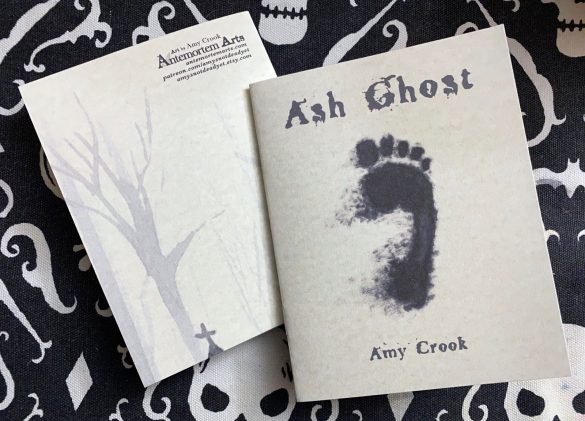 Ash Ghost zine
I'm going to make a limited run of these little zines for my patrons! They're made by hand, printed right here in my living room as always and lovingly assembled and stapled just for you. The unsettling short story inside uses my Ash Ghost art series as both inspiration and illustration, including a new one created just for the cover.
Every one of these will be signed and numbered, and the edition will be exclusive to my Patreon supporters. You don't even have to buy one — everyone who is at the $10+ level in February will get one in the mail for free!
I'm also including these lovely bookmarks, which will be available on Etsy afterward (unlike the zine).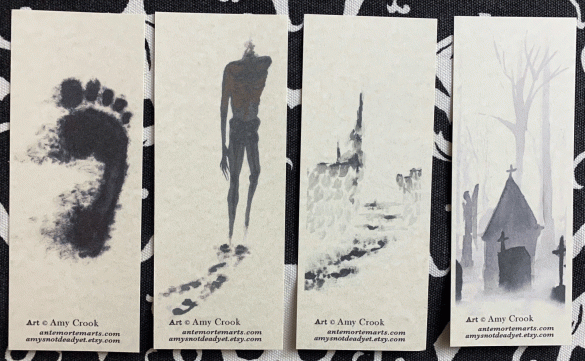 Offer ends Feb. 29, 2020
If you're not a patron by then, you'll have missed your window and the zine. Become a supporter today!
Categories: Angels, Cthulhu, and Other Myths, Card Design, Flowers, Trees and Landscapes, People, Figures and Faces, Series and Books, Words Words Words, Zombies, Skulls, and Other Morbid Things
Tags: ash ghost, patreon, sale post

---
Tuesday, November 12th, 2019
October continued to be Peak 2019, and the Floating Gallery happened before this, the final round-up of my successful Inktober. Thanks for all your patience and support!
Abbreviation decoder ring!
wip = work in progress, ie, I'm probably going to color some or all of the drawing before it's really done
nfs = not for sale, ie, it's a Patreon sketch and already belongs to someone else
ACEO = Artist Card, Edition Original, also known as ATC or Artist Trading Card when traded rather than sold, which is a standard size I use for all my Patreon sketches these days
Want to get your own sketches, dibs on art, or just feel the warm glow of being part of my community of supporters? Head over to Patreon and pick a tier to get started! There's also bonus cat photos sometimes, if that helps.
Categories: Angels, Cthulhu, and Other Myths, Daily Art, Nudes and Other Sexy Things, People, Figures and Faces, Pretty Words, Sea Creatures and Other Animals, Series and Books, Tentacles, Things I'm a Fan Of, Whimsical and Strange, Zombies, Skulls, and Other Morbid Things
Tags: ash ghost, cat, ink wash, inktober, iron man, jefferson, mcu, patreon, pen and ink, pod, pokemon, winter soldier

---
Monday, November 4th, 2019
This series was painted, and named, after prompts from Inktober 2019.
The upper left's eerie ghost is the first of the Ash Ghost series: 4 ink wash paintings featuring the same mysterious and yet-unwritten legend. They get progressively more complex, filling up the space, drawing you into their story, but Ash is stark and simple.
The upper right, Overgrown, has the footsteps but no ghost that you can see. They lead up to a series of steps between two overgrown pieces of wall, vines obscuring even that hint of what used to be there. A few bits of charred wood stick up in memory of a doorframe, but the rest of the structure is lost to the mists of time.
There's a tale waiting to be told in these images. Small details waiting to be teased out and put down, more pictures yet to come. It keeps pulling us in, luring us closer.
In Legend, the graveyard is full of mist, trees vanishing in the distance and yet, somehow, the ghost is as vivid as ever. Nothing can hide him from you, neither space nor fog, but then again, perhaps nothing can hide you from him, either.
The lower right, Ancient, is the end of our ghost story so far. It features a single ash-blackened handprint obscuring the details on a cracked headstone.
There are more questions than answers left, of course. Who is the ghost? How long has he wandered and where is he going? The headstone is there, but where is his head?
And most importantly: what does he want with you, dear reader?
Categories: Angels, Cthulhu, and Other Myths, Floating Gallery, Flowers, Trees and Landscapes, People, Figures and Faces, Series and Books, Zombies, Skulls, and Other Morbid Things
Tags: ash ghost, for sale, ink wash, inktober, sold

---