Posts Tagged 'jo vanevery'
---
---
---
---
---
Wednesday, July 10th, 2013
Jo Van Every is a sociologist, PhD, publications and all. She sees things differently because of that. She also asks questions that can help you see things in different ways. She's learned that this way of seeing can help move projects forward. If you're feeling stuck and frustrated in your academic career, she might be able to help.
Over the past couple of years, Jo has commissioned several illustrations to use with her academic consulting practice. She's here to talk about what she got and why.
Q: Why did you decide to get commissioned art?
A: I recognized that images can add a lot to blog posts, presentations and other work that I do. However, I struggled with finding suitable images. Commissioning art seemed like a good way to get images that really fit what I was trying to do.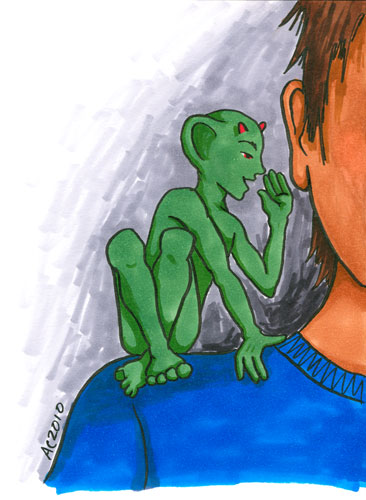 Q: How do you incorporate these illustrations into your work?
A: I think the first illustration I commissioned was a gremlin. I started out using it in blog posts but then I realized that the un-inked version could be used with clients as a colouring page. Later illustrations, like the fairy godmother were commissioned with that in mind. I've used them for workshop exercises and in one-on-one work with clients. Having cartoon-ish illustrations and colouring pages can help clients articulate ideas that may not be developed enough to go in a grant proposal, for example, but that help me help them write better grant proposals.
Q: What did you hope an illustration would add to your ittybiz?
A: My initial hope was that they would help me communicate better because I was using both images and words. As I used them more, the illustrations have added fun and playfulness to the work I do, too. One of the things I want to do for my clients is help them reduce the stress they feel around their work and fun is one way to achieve that goal. I decided to commission an image of myself for my about page to really foreground that sense of fun.
Q: How did the process work from your end?
A: I am a very word-y person. One reason I struggle with finding suitable images is because I have trouble articulating what I really want. I worried that it would be hard to communicate what I really wanted. The process was actually much easier than I expected. You helped me figure out what I wanted and sent a few sketches with some questions to help me clarify my ideas. Sometimes I took a while to respond because I didn't feel confident that I knew what to say and you gently nudged me along. I would recommend that people build that into their timelines. I really needed time to look at the sketch and then ponder it in the back of my mind for a bit before I could comment on it.
Q: Have you had any unexpected awesome from your cartoons? How do clients respond they first see the illustrations?
A: I must admit that I was worried that my clients, many of whom are university professors, would find them too silly. I have been surprised at how well they respond. Some of my clients went out and bought coloured pencils so they could colour in colouring pages I sent them! Others described to me in words how they saw the image in colour in their head.
The other awesome thing is that although I mostly use digital versions of the illustrations, you sent me inked originals. I have framed these and have them on the wall of my office where they inspire me daily.
Thanks so much for answering my questions Jo, it's always delightful talking to you!
If you're interested in commissioning an illustration for your own business, you can check out the details here. Each of Jo's illustrations only took 1 hour of billable time.
If you're interested in a cartoon of yourself (or someone else in your life) there's a Be A Cartoon special just for that!
Categories: Daily Art, Words Words Words
Tags: commission, jo vanevery, words

---
---

More Art This Way »